Category —
giveaways
Yep, 500 posts, some here, some transferred from the blog I had before I started Stellar Parenting but all of them are here, 3 years worth of posts.
So to celebrate I am going to give stuff away, well just one thing actually because money does not grow on trees.
A $20 online gift card to Amazon – either American or Canadian depending on your location.
1.  If you want to win a all you have to do is leave a comment on this blog post – 1 entry
Additional entries can be had by 
2. Following me on twitter – 1 entry
3. Connect with me via Google Friend Connect, just click that little box over there on the left hand side under the ads and the twitter box – 1 entry
Leave a separate comment for each entry which means that you could leave up to 3 comments. Contest closes Friday, October 14 at noon.  At some point after that on Friday I will randomly select one person to receive the $20 amazon card.
Full Disclosure – Amazon does not know me nor did they give me squat for doing this, my money, my giveaway.
PS – I have extra copies of Lunch Wars ( because the mail system sometimes sucks) and would be happy to mail one to anyone who wanted one, if you do just mention it in your comment. I have 3 copies and they will go to the first 3 people who ask. I  have had 3 people ask and will send them out as soon as I have time
Adoption made our family, I like to support adoption things when I can so I am putting my money where my mouth is and supporting something. Actually to be totally honest I am asking you to put your money somewhere but if you do you could win fantastic prizes.
Here's how it will work – For every 5.00 you donate to the Adopt Walk 2011 I will give you one raffle ticket. You can do the math on that.
You can get an additional ticket by blogging, facebooking or tweeting this raffle.  You need to mention the Adopt Walk and send them to my blog.
I have been shopping and saving and watching and here is what you can win all for the big price of $5.oo donated to a great cause.
1. A lap quilt made the Corey's Mom, I bought it in the Orlando scholarship auction and trust me it is beautiful
 This quilt is made of 100% cotton fabrics, 80% cotton/20% polyester batting, sewn and quilted with polyester thread. Machine Washable Cold Water / Machine Dry Low. Quilt blocks were made as part of the 501 Quilt Block Project. It measures 54″ x 40″. This makes a nice lap or snuggle quilt for a child or adult (description shamelessly stolen from the auction site).
2. A pewter adoption is love necklace.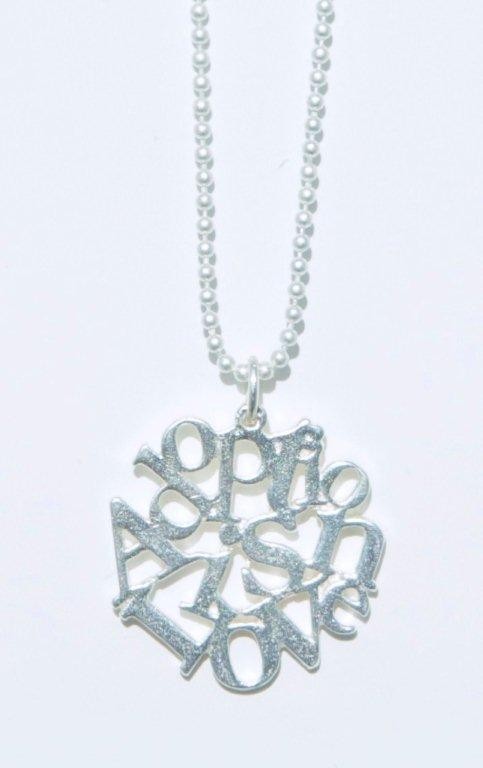 I purchased this and the following item with my hard earned pennies but if you like them and want to buy one you can find them here
3. An adoption is love sun catcher, great to hang in a window.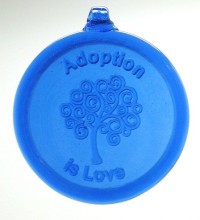 4. A copy of Gregory Keck's book Parenting the Hurt Child, it is a great book and has lots of information and useful strategies for parents.
5. You like radishing towel, which is a great play on words and also a great reminder to those of us who are parenting hurt kids. I do like them, in fact I love them to pieces.
6. A Keep Calm and Carry On lined journal – an important mantra for any parent.
 7. A scarf, knit by me in a colour and pattern of your choice – now there are a few options for this scarf it could look like any of these – all photos taken from Knitty.com
or perhaps you love cables or lace or the scarf I knit for the Orlando scholarship auction, the choice will be yours. I can do just about anything but I will not be knitting anything in cashmere because that is simply beyond the budget. If you win this we will work together to find something you love.
All the details and the fine print. 
1. 1 raffle ticket is 5.00. You must go here ( it will open in a new window) to donate money to Adopt Walk 2011. Then come back here, leave a comment and tell me how much you donated and I will give you the appropriate number of tickets. If you want to be anonymous and not tell the world your donation amount you can email me stellarparenting (at) hotmail (dot) com, tell me the amount and I will add you to my list of tickets. I will email you to confirm ticket numbers and donations for all comments and emails. If you have not heard from me within 2 days then check in with me to make sure you get your tickets.
2. You can get one additional entry for sharing this raffle on social media site of your choice, twitter, facebook, your blog, where ever but you must leave me a comment telling me that you did and provide the link to the place it was shared.
The raffle will close midnight September 24th winners will be announced September 25th. All prizes will be shipped at my expense in the days that follow except for the scarf which will need to be knit and that takes time.
No one gave me anything and no one is anyone endorsing this raffle. I bought all the prizes myself and am simply offering them as prizes for donations to what I feel is a worthy cause.
The boys and I will be walking in the Adopt Walk on September 25th in Toronto to show our support for adoption in Canada. If you live in Ontario and want to show your support by attending the Adopt Walk 2011 you can register here.
FYI – If you know me personally you will know that I am also giving away prizes on facebook to raise money. It is separate from this raffle, the 2 giveaways are not connected in any way except that they are both raising money for the same cause. 
Yes I love them, sometimes my children make it really hard to tell them that I love them and that I will always love them but I do and I will. I try to find fun ways to remind them that they are loved and cherished by me (and their Dad too). I have mailed them love letters, made them bracelets, given them gifts on mothers days, put love notes in their lunches, put positive affirmations on their bedroom, bought candies with love messages on them and put them on their breakfast plates, whispered it in their ear when they are least expecting it. My goal is always to make them feel cherished and special.
This week I found that Hallmark has taken my ability to tell my kids I love them to a new place with these amazing little cards that are meant for a variety of things but I am going to use them to remind my kids they are loved. They have these great little packages of 4 cards one of which is meant for Valentines day and the rest are just cards that tell kids they are great. I am building a stash of them because I know they will leave stores soon and I think that they will be great to have around to remind my boys just how great they are.
I thought that I would share some with you too. If you want a package of these great little cards leave me a comment, any old comment will do but you will get brownie points if you share one way that you express love to your kiddos. I'll pick randomly pick 2 comments on Monday, Feb. 7th and send you out 4 pack of these great cards.
Disclaimer – no one gave me nothing for this, it's all just me wanting to share with you. If Hallmark wanted to send me a stack of free stuff I would not be broken hearted but I doubt it is going to happen.
Oh Christmas how I love thee,Oh Christmas cards how I do not love thee as much.
I have tried and tried over the years to get my Christmas cards out to people I love in a reasonable amount of time. I have joked about them being New Years Cards and some years they have been sent in time for valentines day. I love the idea and I hate the process, every year I say I am going to get it together and every year I fail.
To find out how to make card sending easier this year head over to my Review Page for the rest of this post and great giveaway for bloggers.
Yep I am giving stuff away! Why am I giving things away, because it makes me happy, I have had 10,000 hits on my blog as of today (I know that were not all me because I have blocked my IP address) and you are all great people who deserve a little treat.
So in order to keep things simple and to save on shipping costs I am going to let you choose your prize. I will give away 20.00 gift card to Amazon and you get whatever your little heart desires. If you are Canadian and would prefer Chapters or something please tell me.
So here is what you need to do… it's really easy.
1. Leave a comment on this post and get one entry.
2. Click that "follow" button on the left there and follow this blog and get another entry or let me know that you already follow.
3.Link to my blog on your blog and get a 3rd entry – either in a post or in your blog list.
Please tell me in your comment if you have done anything to get an extra entry.
Contest closes Sunday at midnight. I will announce the winner in my Monday Moments post.
PS – no one is giving me anything for doing this, not Amazon or Chapters, they have no idea who I am or that I am sending them business.
There are as usuall to many things to say and not enough to say them so instead I am going to give things away because that seems easier than trying to type a post. This is going to be dead easy… you totally can play and all you have to do is leave a comment.
What am I giving away, a copy of Wounded Children, Healing Homes.
I can not say enough good things about this book. I wish that I had it before I started this journey, after I was matched withthe boys but before they moved in would of been perfect. I would have learned a lot and been more prepared for what was to come. Everyone who works with kids should read this book. I would tell you more but I lent my copy to the school because they need to read it. When I get it back I will review it properly.
So leave a comment on this post and you will be entered to win. Leave a comment and become a follower and you will get 2 entries. If you already are follower than you already have one extra entry just let me know in your comment.
I will draw a name on Monday so you have until mindnight on Sunday April 25th to enter. I will post the winner on Monday and they have till Friday to reply, then I will draw another name.
I also just realised as I typed this up that I was going to make buy a bunch of heartline bracelets based on comments a long time ago and then baby Lily died and life got busy and I FORGOT! So I will also buy 4 braclets from Corey and send those out as well. Although they are small they mean a lot.
So leave a comment and you can win the book or a bracelet. 1 book, 4 braclelets and all you need to do is leave a comment and follow me if you want 2 entries.
PS – no one is giving me anything for doing this… I just am because it is a great book and Heartline is a great charity and Corey rocks too.